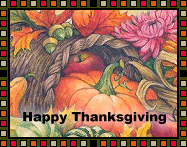 Bryce and I went Christmas shopping today. We picked up some things for his brothers and Hub, so his end of shopping is finished, except something for his girlfriend. We got a few presents for Hub's birthday, too, not much, but at least he'll have something.
After shopping we stopped for coffee. My cup holder in the front wouldn't adjust so that the cup wasn't wobbling, so I stuck it in the cup holder behind my seat, it was too hot to drink, anyway. We were almost home, and I turned onto the last road leading home from the major roads. I heard the cup fly across the van. Argh. No Hi-Rev coffee for me. I had to wash the mat and soak up the coffee that was pooled in the slots where the seats are set into the floor. What a mess. All I wanted was my coffee!
I've been a crocheting fool the past four days. I had the blanket for my nephew about three quarters finished. I got to looking at it, and I found mistakes, ratty looking spots and I just wasn't pleased with the way it looked. So I ripped it all out and started all over. Here's the results so far.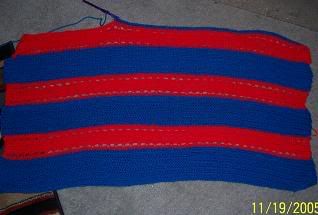 Not much else in the way of news around here.
Take Care of You.