Happy Thanksgiving Eve!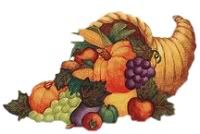 I can't believe I haven't written this week. To be brutally honest, I just haven't wanted to. (I have no idea why the Wicked Witch of the West just popped into my head shrieking "I'm melting! I'm melting!!")
So I paid Brock's electric bill today, which wouldn't have been to terrible, if there weren't the connection fees on there. Rent is due next week, and I have that covered, too. Neither has a job yet, and I know Bub has been looking (at least he says he has been) but I have no idea if Dee has done anything. It just seems rather odd that she couldn't get hired on anywhere as Christmas help. I mean come on! 'Tis the season and all that jingle jangle.
Big news, however. Brock is going to talk to an Air Force recruiter today. He's decided to join the A.F.! Dee says she's all for it, but I think she's probably disallusioned about the whole "See the world, join the Air Force" (or any branch, for that matter.) I don't think she realizes that yup, he'll see the world, but she'll be sitting home taking care of baby. I think she'll hate it. We'll see. I am, of course, assuming they accept Brock. He might have to drop a few pounds before Basic Training. I think he could do that, though. I have mixed feelings. I think it's a great idea, and he's wanted to do it for years. However, I am already fond of the baby, and it isn't even here yet! (She's not even showing, that I can tell. She's almost 17 weeks now. Still no prenatal care yet, either. Boo! Hiss!)
The Asian Bodywork gal has worked on me twice in the past week. I've been having leg cramps at night, so she asked if she could do some work on me. The first night was great, no cramps. The past three nights, they have been back, and last night with a vengeance. Ouch. So she worked on me again today (today being the second session) and she worked on, well, how can I say this ... she worked on getting my body fluids to move more freely. I guess that's as good an explanation as any. We'll see how that works. My entire right side from foot to shoulder is in lock-down. Everything is stiff, the muscles are tense and they've been like that a long time. Don't ask me why, I couldn't tell you, but hopefully the work she did today will help that some.
Work has been pretty busy. I think this is the first time we've been solidly booked at least a week in advance. Normally we have at least a few open spots, but until the second we have nothing open at all. We had some trojan virus' and infected files galore on the work computer, so I spent the majority of the past three days playing doctor to that, getting rid of the garbage. It's finally back up to speed, and I thought I had taken care of the pop ups, but I got a few today when I wasn't even on the web, and one was (Oh Horrors!!) A page of nude women in compromising situations. I have no idea how long it was up on the screen before I noticed it, as I was working on digging up a pathology report from 1993 for a patient. I hope no one saw it. Really. I'm not addicted to porn!
I am making these teeny tiny pecan pie tarts for dessert tomorrow. I made half of them last night, but I was tired, and I had two more trays to make before I'd be finished, so I left them for today. Each batch needs to bake for half an hour, I couldn't have held my eyes open that long. (I wish I had a bigger mini-muffin pan, that would help!) Anyway, the batch I made so far today turned out awful. They overflowed, the pan was a mess, and I couldn't even get three or four of them out of the pan because the ick that is the inside was gooey and making them stick to the pan. So I had to soak the pan to get those out, and the others were very crumbley. So now I have the pumpkin pie in the oven, and I will finish the pecan "pies" later.
The turkey has thawed, and everything else is ready to go, I think. I feel very unorganized this year, though. Every year, everything gets done at just the right time, and this year something is going to happen. The turkey will still be frozen. The homemade rolls will burn. The gravey will be lumpy. Something. I can just feel it.
I've got to get ... things to do yet before everyone gets home.
Take Care of You and have a Blessed Holiday
.