Chestnuts Roasting on an Open Fire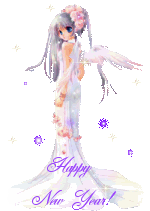 I saw another shooting star tonight. Go me!
I ran out to work this morning to check the mail and return phone calls. I have trained our patients well, I reckon. There was only one phone call to return, and that was someone I told to call me this week and let me know which day his partner had off so I could schedule his appointment. I posted all the checks that came in on the computer and the ledger, and I was out of there before I knew it.
It's that time of year. Sales. Mark-downs. Close-outs. I had to go and pick out my color theme for the presents next year. (i.e. pick out my wrapping paper for next Christmas.) I got rolls (and rolls!) of paper with light blue, medium blue and teal colors. (A few even have a little bit of lavender, oh, so pretty!) I like the colors a lot. I can't wait to start wrapping. (I'm kidding!!) I bought some bows, too, and some "gossamer" ribbon with a few shiney threads interwoven, in light blue that matches the paper perfectly.
My watch stopped December 23 at two thirty and four seconds. I bought a new battery but I can't get the back open. I knew you wanted to know.
Bryce has a friend coming for the weekend. He's really quiet, they'll spend the entire time in Bryce's room playing PlayStation, and we'll hardly know he's here.
Yesterday while taking Bryce shoe shopping, I saw a pair of cowboy boots I really really want. I might have to go get them tomorrow.
Random thoughts from a random mind tonight, I'm afraid.