Hard Candy Christmas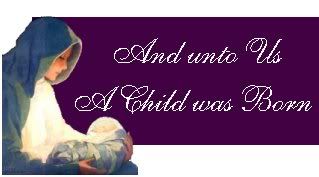 We've had a busy weekend. Yesterday we went out to the bank, gassed up my van, then went out to the far west valley to a flea market. We didn't find much at all, but it was fun looking around. We stopped and ate some lunch, then came back home. We were so tired we went straight upstairs and took a nap. I think we're getting old.
Today we were going to go to CostPlusWorldMarket, but when we got there we discovered they moved the store (or closed it) with no indication of where they had gone. So we went across the street. While Bryce and his daddy were in the guitar store, I went in the craft store in search of dragees for my Christmas cookies. The edible kind. I have had no luck finding them. Then we all trekked down to the pet store, and I always forget they don't have any dogs in there, so we talked to the birds and left.
Brock and Dee came over, because Brock heard from Blaine that I was giving Bryce a trim this weekend and Brock needed his hair cut. I trimmed about four inches off Bryce's hair, and gave Brock a really, really short cut so it will take awhile before he needs another cut, at his request. They stayed for dinner (Perogi lasagna. Messy, but really good.) Dee has felt the baby moving now, and she's just barely starting to show. The baby name of the week this week is Piper. ( Love it) Everyone thinks it will be a girl, I don't think they've decided on a boy's name at all. I finished the baby blanket for them (pic below) and I have almost finished a muffler I've had on my knitting needles for quite some time. It's my upstairs project, and I am rarely in the loft, so it had been sitting idle for awhile. It's really pretty and I should have a jacket or coat to wear it with, as many as I have. Only thing is you don't see too many people in Phoenix wearing winter scarves! Today I started another project (knitting) and I have a crochet project in the wings.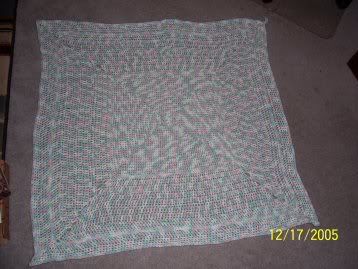 Cool picture I snapped this mmorning. I believe someone was trying to send a message...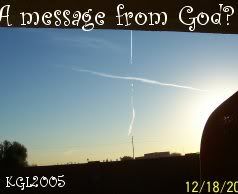 Time for a Christmas Quiz (Borrowed from Rosie)

1. Egg Nog or Hot Chocolate? Lite Egg Nog or sugar free hot chocolate, I like them both!
2. Does Santa wrap presents or just set them under the tree? He wraps them, and writes the names with Sharpies... no tags!
3. Colored lights on tree/house or white? Colored. Oh, and as many lights on the tree as possible!

4. Do you hang mistletoe? If I have some.
5. When do you put your decorations up? When I get around to it. Usually the beginning of December.

6. What is your favorite holiday dish (excluding dessert)? Hmmm... my Mom used to make cauliflower with cheese sauce. I don't make it, though it's easy enough to make.
7. Favorite Holiday memory as a child? When I was in five or six my mom and/or grandmother made me a beautiful winter coat for Christmas. It had a faux fur collar. I felt so grown up and special wearing that coat.

8. When and how did you learn the truth about Santa? I don't recall, but I am pretty sure one of my brothers probably broke the truth to me.
9. Do you open a gift on Christmas Eve? Nope

10. What kind of cookies does Santa get set out for him? Elaborately decorated sugar cookies with egg nog.
11. Snow! Love it or Dread it? Well I like visiting the snow ... 12. Can you ice skate? I could when I was younger.

13. Do you remember your favorite gift? A pottery wheel (Hey, me too, Rosie!) Got it when I was ten or so.

14. What's the most important thing about the Holidays for you? My family.
15. What is your favorite Holiday Dessert? Cheesecake, I guess.
16. What is your favorite holiday tradition? Baking cookies on Christmas eve with the kids.

17. What tops your tree? A foil and cardboard star I made in 2nd grade.

18. Which do you prefer Giving or Receiving? Giving.
19. What is your favorite Christmas carol? I like so many of them, like O Holy Night and The First Noel, but my absolute favorite is Carol of The Bells, preferably a instrumental version. 20. Candy Canes! Yuck or Yum? Yum, try putting one of them in a mug of hot chocolate! Mmmmm!