The Most Wonderful Time of the Year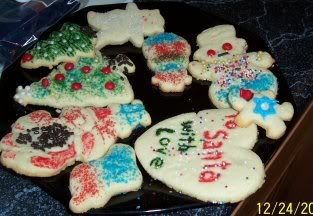 The annual making of the "Santa Cookies" was a lot of fun this year. Brock was very appreciative that I saved he and Dee some dough to make their own batches. I think he got tired of decorating after the first two sheets, so the remaing cut outs got a sprinkling of green sugar and that's it. That was OK though, because we had dozens of beautiful cookies that they had spent their creative imaginations decorating. Of course, we alk had to make fun of Hub, because he decorated "The Best Cookie of the Year," as usual. He's such a perfectionist. I mean, look at the candy cane! He probably measured each little jimmy to make sure it was the same size as all the others he was using. He even had to doctor up the cookie before I took the second picture (the first one was blurry) by removing the brown jimmies he had started to use for Santa's boots.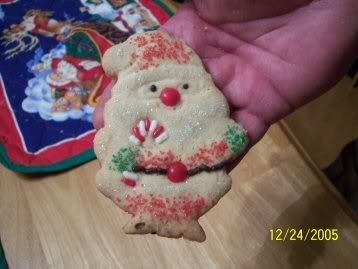 We were beat by the time we fell into bed. We had warned Bryce not to wake us up a minute before seven, otherwise we'd call the North Pole and have Santa take back all the gifts. Turns out he slept the latest of us all. I got up at around five to get the sticky buns out of the fridge so they could warm to room temp by seven, and ended up staying up. I had been tossing and turning, anyway. Brock had heard me coming down the stairs, so he got up, followed by Blaine who had been awake since four thirty. Hub was down the stairs soon after, followed by Dee. We all sat down here laughing and joking until Bryce came down at precisely seven a.m. He said he'd been awake for hours, but none of us believed him. Hee!
Christmas was wonderful, but I always feel a sense of disappointment in the end. Not because of the "things" I got or did not get, but more because there's such a build up to the day, and then it's over for another year. Maybe I am left wondering why we can't experience that happiness year round. Why does it take a tree and dozens of presents to make us all sated?
Shouldn't we be that happy every day?
I leave you with a few more pics of our holiday.
Bryce and his girlfriend decorating cookies ...
Bryce with the guitar he thought he wasn't getting ...
Dee ...
Blaine ...
The tree on Christmas Eve