1-28-06
Wow! I went for my first helicopter ride today. It was truly amazing. But the best part? Hub flew the copter for ten minutes all by himself! I wasn't even scared! Ha!
We had to go for his interview for acceptance into the helicopter pilot school. Both of us were required to attend. I guess in the past guys have signed up, then a week later called and said their wives didn't want them to participate. I'm all for it, because it's something Hub has always dreamed of doing. I'm all for making dreams come true when I can! I had my camera but I did not snap any pics. Should have, but I was too intimidated to talk on the mic and ask! Silly me.
Doc was sick all week, so work was uneventful. It was just me and the body therapist. I will be happy when he comes back Monday and I have some work to do.
I've been keeping busy making baby sweaters and hats. This set is for Duke, whose granddaughter is due to arrive any day now. I just need some buttons for the sweater and I can mail it. I made the hat on the right, which looked too small for the sweater, so I tried a different pattern and made another hat to send along, too.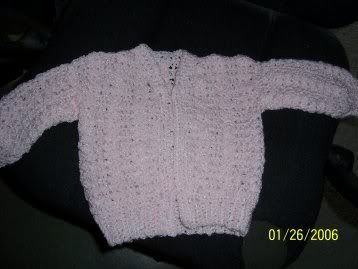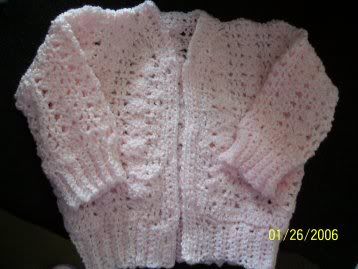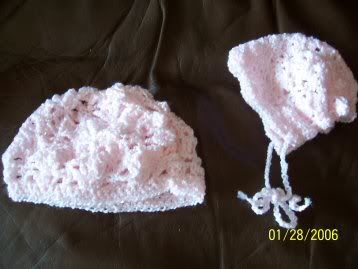 I found some "vintage" crochet patterns online, and printed out five or six layette set patterns, and a little romper that is just too cute. The patterns are all from the forties and fifties. I've started on one of the sweaters already.
More soon. Kelly tagged me earlier today, I have to play her journal game, so that ensures at least one more entry!

Quote of the Day:
Behind every argument is someone's ignorance.
- Louis D. Brandeis